ISC23 Sponsorship
and Advertising Opportunities
Capitalize on your exhibit investment with high-profile placements designed to boost your traffic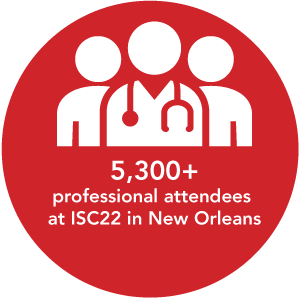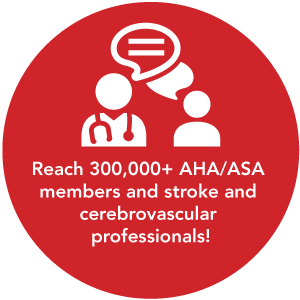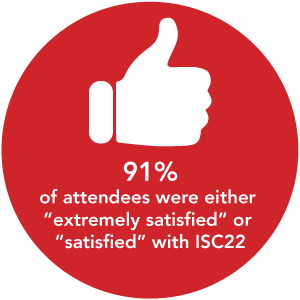 Science & Technology Hall Dates and Hours
Wednesday, Feb. 8, 2023, 9 a.m.-5 p.m. CST
Thursday, Feb. 9, 2023, 9 a.m.-5 p.m. CST
Meeting News and Navigation
| Opportunity | Price range | Space reservation deadline | Materials due |
| --- | --- | --- | --- |
| AHA Mobile Meeting Guide App | $3,500-$25,000 | Varies | Varies |
| ASAtv | $750-$40,000 | Varies | Varies |
| Newsstand Premium Sponsorship | $9,475 | Dec. 5, 2022 | Dec. 12, 2022 |
| Conference Coverage Website | $5,000-$15,000 | Dec. 9, 2022 | Dec. 16, 2022 |
| Attendee Welcome Guide | $11,500 | Jan. 3, 2023 | Jan. 10, 2023 |
| Conference Bag Inserts | $10,500 | Jan. 6, 2023 | Jan. 13, 2023 |
| ISC Stroke Daily News | $295-$10,580 | Jan. 6, 2023 | Jan. 13, 2023 |
| Opportunity | Price range | Space reservation deadline | Materials due |
| --- | --- | --- | --- |
| Housing Confirmation Email Package | $10,000 | Sept, 23, 2022 | Sept. 30, 2022 |
| Registration Email Package | $13,000 | Sept, 23, 2022 | Sept. 30, 2022 |
| Exclusive Exhibitor Emails | $12,500 | Varies | Varies |
| ePreviews | $2,890-$3,835 | Varies | Varies |
| Nursing Symposium ePreview | $2,890-$3,835 | Dec. 22, 2022 | Jan. 5, 2023 |
| Virtual Meeting Platform Log-In Credential Email | $5,000 | Jan. 6, 2023 | Jan. 13, 2023 |
| ISC Daily Highlights | $12,000 | Jan. 11, 2023 | Jan. 18, 2023 |
| eHighlights | $2,890-$3,835 | Jan. 13, 2023 | Jan. 20, 2023 |
Convention Center Sponsorships
| Opportunity | Price range | Space reservation deadline | Materials due |
| --- | --- | --- | --- |
| Lanyards | $50,000 | Sept. 23, 2022 | Sept. 30, 2022 |
| Wellness Challenge | $35,000 | Oct. 28, 2022 | Nov. 4, 2022 |
| Abstracts on USB | $36,000 | Nov. 18, 2022 | Dec. 2, 2022 |
| ASAtv | $750-$40,000 | Varies | Varies |
| Game of Strokes | $40,000 | Nov. 18, 2022 | Dec. 2, 2022 |
| Massage Lounge | $30,000 | Nov. 18, 2022 | Dec. 9, 2022 |
| Hanging Ad Banners | $11,000-$14,000 | Dec. 16, 2022 | Jan. 6, 2023 |
| Charging Lounge | $15,500 | Dec. 16, 2022 | Jan. 6, 2023 |
| Column Wraps | $11,000-$15,000 | Dec. 16, 2022 | Jan. 6, 2023 |
| Communication Center | $15,000 | Dec. 16, 2022 | Jan. 6, 2023 |
| Digital Signage/Commercial Break | $8,000-$14,500 | Dec. 16, 2022 | Jan. 6, 2023 |
| Escalator Graphics | $25,000-$32,000 | Dec. 16, 2022 | Jan. 6, 2023 |
| Hand Sanitizing Stations | $3,500-$25,000 | Dec. 16, 2022 | Jan. 6, 2023 |
| ISC Nursing Symposium Coffee and Tea Break | $8,000 | Dec. 16, 2022 | Jan. 6, 2023 |
| ISC23 ePosters | $10,000 | Dec. 16, 2022 | Jan. 6, 2023 |
| Lighted Kiosks | $9,500 | Dec. 16, 2022 | Jan. 6, 2023 |
| Luggage and Coat Check | $12,500 | Dec. 16, 2023 | Jan. 6, 2023 |
| Professional Headshot Lounge | $25,000 | Dec. 16, 2022 | Jan. 6, 2023 |
| Puppy Snuggles | $35,000 | Dec. 16, 2022 | Jan. 6, 2023 |
| Railing Clings | $35,000 | Dec. 16, 2022 | Jan. 6, 2023 |
| Science & Technology Hall Aisle Signs | $25,000 | Dec. 16, 2022 | Jan. 6, 2023 |
| Science & Technology Hall Coffee and Tea Break | $10,000 | Dec. 16, 2022 | Jan. 6, 2023 |
| Science & Technology Hall Park Benches | $20,000 | Dec. 16, 2022 | Jan. 6, 2023 |
| Science & Technology Hall Restaurant Sponsorship | $20,000 | Dec. 16, 2022 | Jan. 6, 2023 |
| Stacked Meter Cubes | $11,500 | Dec. 16, 2022 | Jan. 6, 2023 |
| Stair Clings | $25,000 | Dec. 16, 2022 | Jan. 6, 2023 |
| Wi-Fi Sponsorship | $25,000 | Dec. 16, 2022 | Jan. 13, 2023 |
| Window Clings | $21,500 | Dec. 16, 2022 | Jan. 6, 2023 |
| Yoga | $25,000 | Dec. 16, 2022 | Jan. 6, 2023 |
| Conference Bag Inserts | $10,500 | Jan. 6, 2023 | Jan. 13, 2023 |
On-Site Education and Networking
| Opportunity | Price range | Space reservation deadline | Materials due |
| --- | --- | --- | --- |
| Game of Strokes | $40,000 | Nov. 18, 2022 | Dec. 2, 2022 |
| ISC23 ePosters | $10,000 | Dec. 16, 2022 | Jan. 6, 2023 |
| Learning Studios | $18,000-$25,000 | Dec. 16, 2022 | Jan. 6, 2023 |
Nursing Symposium Marketing
Virtual Platform Marketing
| Opportunity | Price range | Space reservation deadline | Materials due |
| --- | --- | --- | --- |
| Abstracts on USB | $36,000 | Nov. 18, 2022 | Dec. 2, 2022 |
| AHA Mobile Meeting Guide App | $3,500-$25,000 | Varies | Varies |
| ASAtv | $750-$40,000 | Varies | Varies |
| ISC23 ePosters | $10,000 | Dec. 16, 2022 | Jan. 6, 2023 |
| Learning Studios | $18,000 | Dec. 16, 2022 | Jan. 6, 2023 |
| Digital Signage/Commercial Break | $8,000-$14,500 | Jan. 6, 2023 | Jan. 13, 2023 |
| Virtual Tower Ad Banner | $8,000 | Jan. 6, 2023 | Jan. 13, 2023 |
| Job Board Posting | $1,200-$1,800 | Jan. 13, 2023 | Jan. 20, 2023 |
Hotel Advertising: Omni Dallas Hotel
| Opportunity | Price range | Space reservation deadline | Materials due |
| --- | --- | --- | --- |
| Column Wraps on Third Floor Walkway to Convention Center | $15,000 | Dec. 9, 2022 | Dec. 16, 2022 |
| Convention Center Entry Clings | $15,000 | Dec. 9, 2022 | Dec. 16, 2022 |
| Elevator Clings | $6,000-$10,000 | Dec. 9, 2022 | Dec. 16, 2022 |
| Lobby Escalator Package | $20,000 | Dec. 9, 2022 | Dec. 16, 2022 |
| Skybridge Escalator | $12,000 | Dec. 9, 2022 | Dec. 16, 2022 |
| Level Two Escalator | $12,000 | Dec. 9, 2022 | Dec. 16, 2022 |
| Lobby Floor Decals | $6,500 | Dec. 9, 2022 | Dec. 16, 2022 |
| Skybridge Window Clings | $30,000 | Dec. 9, 2022 | Dec. 16, 2022 |
| Level Two and Three Window Clings | $8,000-$9,000 | Dec. 9, 2022 | Dec. 16, 2022 |
| Window Clings Leading to Skybridge | $9,000 | Dec. 9, 2022 | Dec. 16, 2022 |
Hotel Advertising: Hyatt Regency Dallas
| Opportunity | Price range | Space reservation deadline | Materials due |
| --- | --- | --- | --- |
| Efrog Shuttles | $25,000 | Dec. 1, 2022 | Jan. 13, 2023 |
All rates are net. No agency discounts apply. Cancellations are non-refundable.
All quantities are based on projected attendance and room blocks.
Ascend Media encourages (and practices) environmentally friendly printing, including recycled/recyclable paper and plant-based inks.
Your sponsorship and advertising dollars count toward exhibiting priority points.
Ask your Account Manager for details.